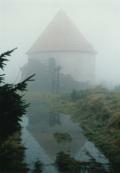 Kunštát chapel
Kunštát chapel - baroque-style "Our Lady Visitation" rotund chapel erected in 1760 on the main ridge in the height of 1035m served to church service of woodmen's families, mostly of Tyrol native. They have been invited to domiciliate here for logging wood needed in local glassworks and distant silver mines in Kutná Hora. After 1945 the compartment was destroyed except for one sculpture which has been transferred to Zdobnice church in early 1960s. The only relique remaining here is a pedestal with inscriptions informing about Our Lady and Lord icons and about the chapel donator M. Kašpar.
General repair of the chapel in 1967 was accompanied by minor instalment to commemorate the Munich Arrangement and building of fortification system. Unfortunately this occasional activity has got no continuation. A project of the Mountain Guard, to install here a memorial to mountain victims, has never been put into life. Recently the empty chapel is restored .
Reserve "By Kunštát chapel"
Nearby, a typical moss biotope laid on a peat layer about 90 cm thick is protected (2,68 ha reserve "By Kunštát chapel" has been declared in 1973).